Products: Forklift Bike Shop e-Commerce Optimization | BikeBasket - Cart Abandonment Recovery | Google Analytics Setup | Reporting
Clean data & proper attribution in 1 beautiful Dashboard
Gamechanging Reporting for bike shop E-Commerce websites.
What if I'm not currently tracking anything?
No Problem! Email noah@bikeshopseo.com and get it set up.
Screenshots of the Ecommerce Dashboard:
Revenue Reporting
This is our favorite part of the report. You can see some of our favorite KPIs, Average transaction value, items per transaction, revenue for the current month, revenue over time, and which sources are accounting for your revenue.
AdWords Dashboard Section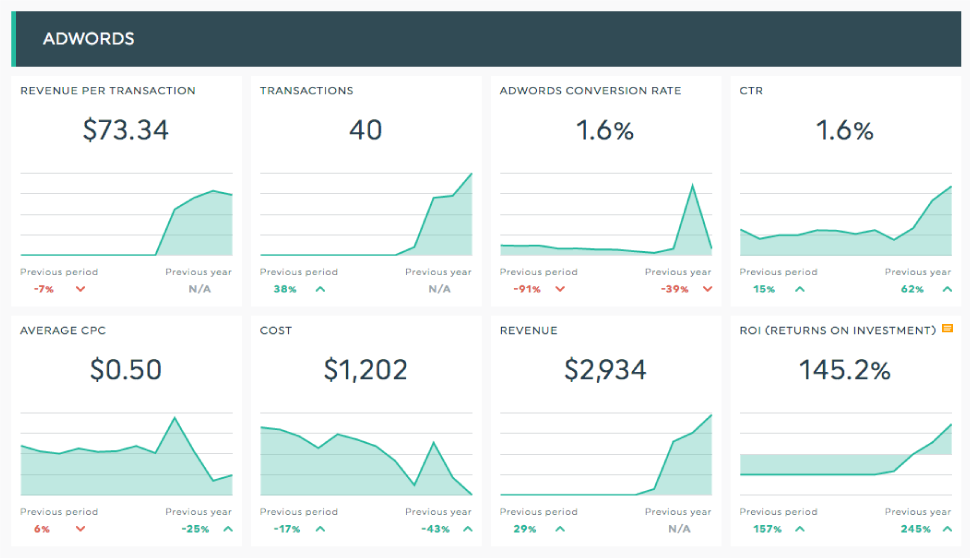 It includes your monthly Revenue, which keywords are generating the most revenue, your revenue per transaction, your average Cost Per Click, # of Clicks, your Ad spend, and most Importantly your ROI for your AdWords Campaigns.
Organic Search Dashboard Section
The Organic Section of the report helps you under stand how your website is performing in organic Search.
Link Profile Dashboard Section
This section gives you visibility into your website's strength (Domain Rating) is based on your link profile. Learn More
Available Integrations
Get Stoked! We can build your reports that integrate with the following services.